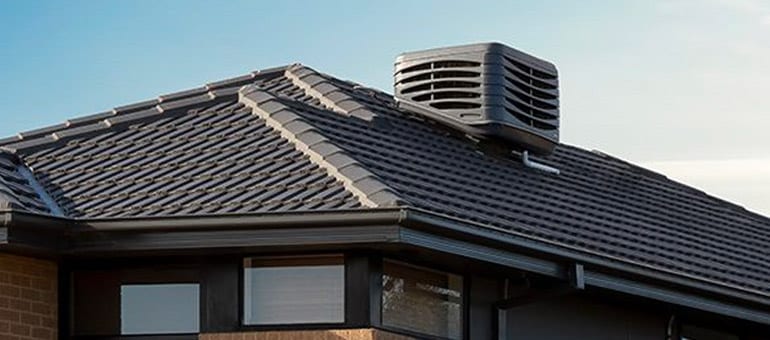 Evaporative Cooling
Evaporative cooling uses a central unit, which is connected to a series of outlets throughout your home. The system is installed on your roof and draws outside air through wet filter pads allowing it to cool and distributed through-out the home. It is considered to be the cheapest, freshest and most natural method of cooling with your windows and doors left open. The process allows natural fresh air to refresh every few minutes while in operation.
As the name indicates, evaporative cooling cools the air by evaporating water. This is done first by drawing in the surrounding fresh, hot or warm, dry air from outside your house via a cooling unit on top of the roof that is connected to a series of outlets or ducts, placed strategically throughout the building. The warm is then filtered through wet pads or quilts, with the resulting evaporation cooling the air and increasing its moisture content. This technique allows evaporative cooling devices to be used even in open areas.
Call our evaporative cooling specialists today on 03 8358 4688 to discuss your project. Alternatively, click Get A Quote and we will call you straight back.